---
Successful talk in New York – inside the UN-building – 19 June 2019:
At this special place Lisbeth Ejlertsen gave a talk about this book and the stories behind it.
Participants were employees in UN and also people from outside.
The event was arranged by Heartfulness Institute together with the Salus Well-being Network. It was lovingly hosted by Susana Bastaricca – the present President of this network.
The aim of the Salus Well-being Network is to spread love and light within the UN and from the UN throughout the world.
Invitation
Below you can see the invitation for this event: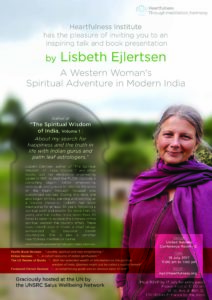 The talk
Via the following link you can see/hear a private video recording from this talk – the duration is about one hour: Press here
Reference concerning this talk
You can read a reference concerning this talk – written by one of the originators and organizers, Vikram Sura, from the Heartfulness Institute:
Press here
One of the treasures in the UN building – the UN-flag from a war
This is a picture of – from left side – Susana Bastaricca, myself and my daughter Signe inside the UN building in front of this UN-flag.